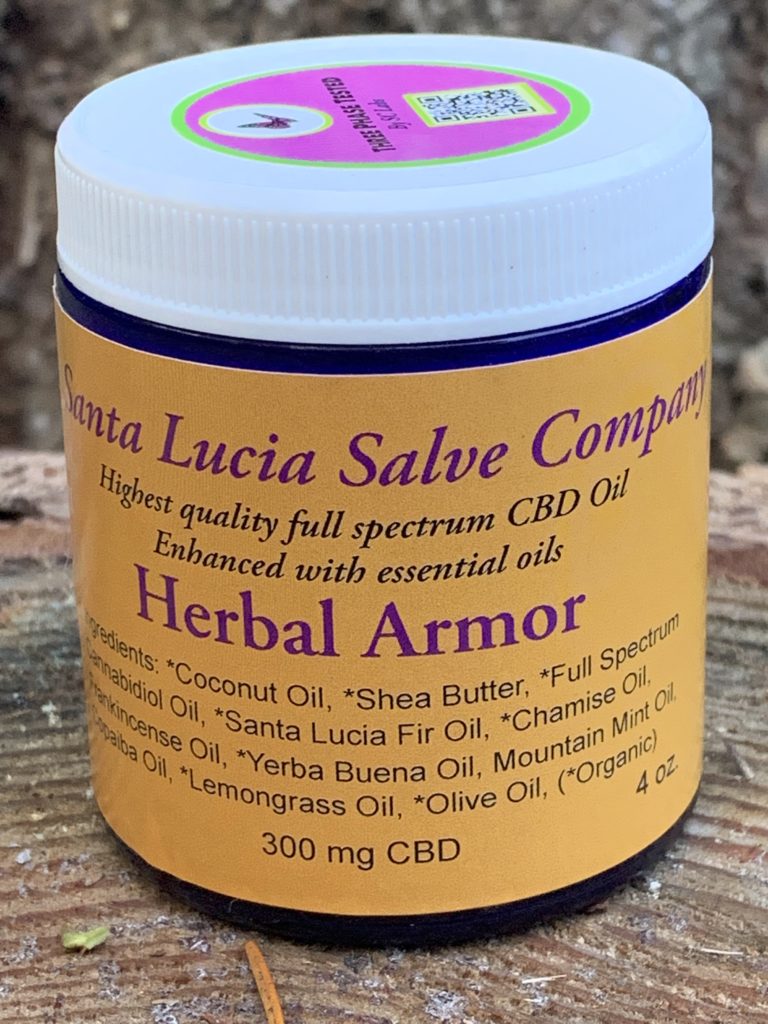 Santa Lucia Salve Company's "Herbal Armor" is a non-artificial, non-toxic and organic insect repellant and natural sunscreen (sunblock), with an SPF of 30. It will stay on the skin for approximately 2 hours in the water, before the need to re-apply. The beauty of this product is that it has ingredients that actually help to prevent skin cancer and enhance immunity against damage related to sun exposure. This product is unlike other mainstream sunscreens and insect repellants that have a possibility of potentially causing skin cancer.
Herbal Armor will not damage the coral reefs, the aquatic life in the ocean, or freshwater organisms in our rivers and lakes. It has natural oils that also help to keep away insects and it possesses no zinc oxide or carcinogenic properties, just age-old plant medicine. The smell is like that of Lemongrass, a slightly pungent aroma of Mountain Mint and Santa Lucia Fir.
The benefit of this Herbal Armor is that there is no need to combine to two different potentially hazardous products separately on the skin, when that combination could become toxic for the body, as well as not do the job properly. Some sunscreen formulations decrease in their ability to screen out ultraviolet (UV) radiation when used with other mainstream insect spray repellants. The herbal Armor the most helpful bug repellent and sunblock combination that relives any concern about harming your body, or the environment.
A quote from a valued customer:
"So, just protect your skin from the elements with this all-natural ocean safe sunscreen and insect repellent while simultaneously healing and soothing your mind, body, skin and soul for maximum fun in the sun. Use it before, during, and after outdoor activities to experience huge range of benefits allowing you to take your adventures to the next level and unlock your full potential with this high-quality, earth, ocean and people friendly product. The ethically sourced ingredients will make you look great unlike other un-natural sunblocks, with their thick pasty like residue that leaves you looking like a pale Smurf in the surf, this product goes on silky smooth and clear so you look and feel amazing, while living life to the fullest and enjoying the great outdoors."
– Katie, River Rafting Guide
Herbal Armor contains therapeutic levels of premium hemp derived broad-spectrum CBD and proprietary blends of essential oil, medicinal plant infusions, so you get the anti-inflammatory and anti-microbial benefits along with the UV protection and none of the harmful toxins contained in traditional sunblock and insect repellent's. This is better for you, better for the earth, better for the ocean reefs and wildlife. As always all of our products come in cobalt blue glass containers, to protect the ingredients, with so no plastic BPA leaching or metal oxidation to worry about. The insects may fly around you, but most importantly they will not land and bite you.
So here is yet another important Santa Lucia Salve product the Herbal Armor Anti-Carcinogenic Sunscreen, Insect Repellant…it is a good choice for you, and everything you love (except mosquitoes).
This product has anti-fungal, anti-viral, and anti-bacterial properties.